RECOVERY COACH: APPLY TO BECOME A COACH DOWNLOAD FORM HERE
WHAT IS NARCAN? 
A medication that reverses an opioid overdose by restoring breathing. Naloxone begins working in 2 -3 minutes and continues working for 30 – 90 minutes; enough time for you to call 911 and for help to arrive. 
For more information on Narcan and steps to recognize and respond to an opioid overdose, visit here.  To locate a Narcan Direct Program Agency, visit the Wisconsin Department of Health Service
How do I schedule training? 
Call the Cudahy Health Department to schedule an appointment at 414-769-2239 or email 
[email protected]
. The training is free and typically takes between 15-30 minutes.
What are ACEs?
ACEs are significant childhood traumas as identified below which can result in actual changes in brain development. These
changes may affect a child's learning ability, social skills, and can result in long-tem health problems. The Centers for Disease
Control and Prevention (CDC) views ACEs as one of the major health issues in the 21st century.
Adverse Childhood
Experiences can include:
1. Emotional abuse
2. Physical abuse
3. Sexual abuse
4. Emotional neglect
5. Physical neglect
6. Mother treated violently
7. Household substance abuse
8. Household mental illness
9. Parental separation or divorce
10. Incarcerated household member
Exposure to childhood ACEs canincrease the risk of: Adolescent pregnancy
 Alcoholism and alcohol abuse
 Chronic obstructive pulmonary disease (COPD)
 Depression
 Early initiation of sexual activity
Early initiation of smoking
Fetal death
Health-related quality of life
 Illicit drug use
 Ischemic heart disease (IHD)
 Liver disease
Multiple sexual partners
Risk for intimate partner violence
 Sexually transmitted diseases (STDs)
Smoking
 Suicide attempts
Unintended pregnancies
The good news is resilience brings hope!
What is Resilience?
Resilience is the ability to adjust (or bounce back) when bad things happen. Research
shows resilience helps reduce the effects of ACEs. Protective factors are internal and
external resources that help us to build our resilience.
What are protective factors?
1. Parental resilience
Increasing parents' ability to problem-solve and build relationships with
their child and others
2. Nurturing and attachment
Listening and responding to a child in a supportive way and discovering
and paying attention to the child's physical and emotional needs
3. Social connections
Having family, friends or neighbors who
are supportive and willing to help or
listen when needed
4. Concrete supports
Having their child's basic needs met,
such as housing, food, clothing and
health care
5. Knowledge of parenting and child
development
Increasing parents' knowledge of their
child's development and appropriate
expectations for their child's behavior
6. Social and emotional competence
of children
Helping their child to interact positively
with others, manage emotions and
communicate feelings
Resilience trumps ACEs!
Parents, teachers and caregivers can help children by:
Gaining an understanding of ACEs
 Creating environments where children feel safe emotionally and physically
Helping children identify feelings and manage emotions
Creating protective factors at home, schools and in communities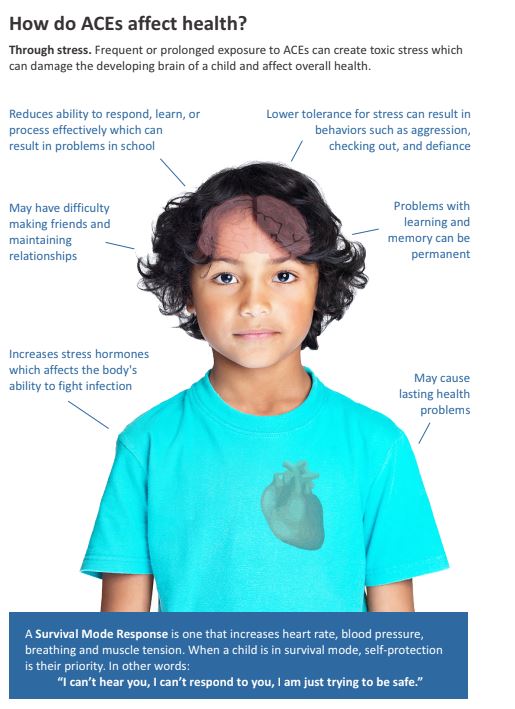 Resources:
Parent Help 123
www.parenthelp123.org
1-800-322-2588
Resilience Trumps ACEs
www.resiliencetrumpsaces.org
Washington Information Network
www.win211.org
1-877-211-WASH (9274)
CDC Adverse Childhood
Experiences (ACE) Study
www.cdc.gov/ace/about.htm